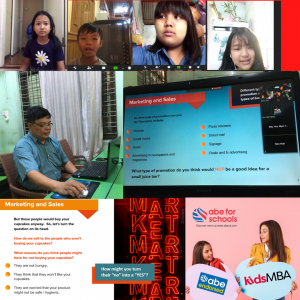 This is an inspiring video from Umabano Academy in Rwanda and their first cohort of ABE Endorsed KidsMBA graduates enthusiastically presenting their business ideas.
11th Edition Latin American Family Business Summit 2019 / Kidsmba
KidsMBA and ABE launch an innovative digital business programme for kids.
Today KidsMBA in co-operation with the Association of Business Executives (ABE) are launching the innovative ABE Endorsed KidsMBA Programme for kids aged 11–15.
The ABE Endorsed KidsMBA is an innovative new programme which develops entrepreneurial skills and know-how through the use of games, role play and discussion. The programme provides a superb introduction to the world of business and is a stepping stone to future careers and further business studies. At the end of the programme each participant receives a numbered ABE Endorsed KidsMBA Certificate of Achievement.
For schools it provides an excellent opportunity to differentiate their curriculum with a fun, added value programme that develops invaluable life skills.
The KidsMBA and ABE collaboration started some months ago with a clear goal to develop a new digital product that would be accessible in as many hard to reach territories as possible and by as many kids as possible to encourage entrepreneurship and business management from a young age. Teaching young people business skills and at the same time encourage confidence and teamwork.
Prof Mark Watson-Gandy, founder of KidsMBA said, "We are very excited about the co-operation with ABE and the launch of the ABE Endorsed KidsMBA Programme. Enterprise is, after all, the lifeblood of our countries' economies. Yet as a society we still rely on young people learning businesses stewardship through trial and error. The ABE Endorsed KidsMBA Programme is a unique offering which introduces children to crucial business skills and know-how".
Head of Product Management, Vicky Mose said, "ABE has long specialised in developing essential entrepreneurial skills and our own research shows how better management education greatly improves the chances of entrepreneurial success. This programme is an excellent addition to our portfolio of entrepreneurial skills development."
The ABE Endorsed KidsMBA product consists of 16 Modules and is written in plain English. The text is presented in a simple and non-technical way. Each module is accompanied by a presentation, session plan, hand-outs for the games and teacher instructions. No prior business knowledge is required to give the Programme.
The Programme covers the following topics:
· Business idea and USP
· Business name and logo
· Copyright and Patents
· Pricing
· Marketing and Sales
· Customer Service
· Communication and networking
· Business Structures
· Business Finance
· Contracts and Legal Obligations
· Operational Plan and Personnel
· Budgeting
· Bookkeeping and Tax
· Business Plan and Financials
· Leadership and Corporate Responsibility
· Pitching to Investors
At the end of the Programme every child will receive a personalised and numbered Certificate of Achievement. There is also the chance to compete in a 'Shark Tank' type event and the winner will receive the Star Performer Certificate.
The Programme is fully downloadable, and a video will guide teachers through the Programme. The Programme is made available via the ABE Platform. For more information about the Programme please contact kidsmba@abeuk.com
About KidsMBA
KidsMBA was established in 2016 and provides intensive business skills courses aimed at kids aged 11–15. The courses are designed to complement and enhance school education with a real-world taster of the life-skills, know-how and aptitude required to run a business or become an entrepreneur.
About ABE
The Association of Business Executives (ABE) was established in 1973. It is an internationally recognised, not-for-profit awarding organisation particularly renowned for high-quality business and management skills development. ABE's head office is in South West London.
Click to download our brochure and find out more.
Great feature by our friends from Mother, Baby & Child Magazine  – Dubai 
We're so delighted to have been featured in Mother Baby & Child Magazine, the biggest parenting magazine in the Middle East!
Just in case you missed it, here is the article in full : An MBA Programme for Kids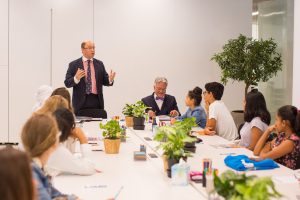 Five of the best books I read in 2018 by moneyweek.com
We're so proud to have been featured in Money Week Magazine, just in case you missed it, here is the article in full.
Special Offer: Order now and your copy of the book will be signed by the author.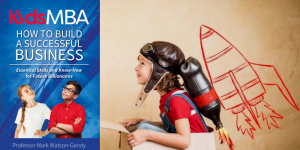 Barrister Professor Mark Watson-Gandy launches new book: 'KidsMBA: How to Build a Successful Business: Essential Skills and Know-How for Future Billionaires'
KidsMBA is the result of Mark's work as a corporate insolvency lawyer; despairing at the high rate of failure of new businesses (50% of new businesses in the UK don't survive the first five years), he set out on a mission to teach kids core business skills and the know-how needed for business and self-employment. Since its launch in 2016, the KidsMBA course is presently taught in 18 countries.
Building on his work at KidsMBA, Professor Mark Watson-Gandy's latest book is aimed at children and covers the key skills involved in running a business. 'KidsMBA: How to Build a Successful Business: Essential Skills and Know-How for Future Billionaires' is designed to be motivational and empowering. Written in an easy-to-read style, it takes the reader through topics ranging from writing business letters to marketing and from budgets and legal obligations to bookkeeping.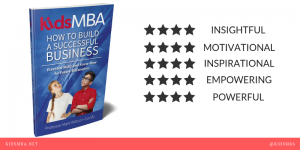 "Reading the kidsmba book may not make you cooler. Or better at sports. Or get you better grades in chemistry. It may not make you rich. But it might. And, it might just change your life."
For enquiries, interviews with the author, a copy of the book to review or any further information about the book, author or the event, please contact:
Emanuella Giavarra
CEO
Kids MBA Ltd
eg@kidsmba.net
www.kidsmba.net
About the Author:
Mark Watson-Gandy is a barrister at Three Stone Chambers and practises in insolvency, company, banking and private international law. He is also a visiting professor at the University of Westminster and a special lecturer at Cass Business School, as well as the author of several specialised law publications.
He founded the KidsMBA programme in 2016, which is now delivered under licence in 18 countries worldwide, and has made it his mission to help children develop the business skills they will need in later life.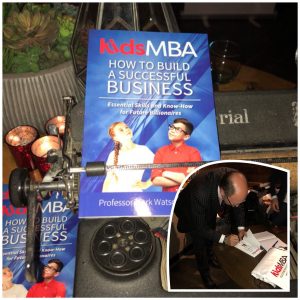 Very proud to add United Kingdom (UK) as a new Kidsmba Partner.
The new website of our new UK partner is now up and running – The KidsMBA UK two day non-residential course currently costs £395 per person. This promotional price will last up until 31st December 2018. Select your preferred date below to kick start the booking process. You will need to complete the online booking form and make the necessary payment to book your place. Group bookings (of 3 or more) can be made by contacting KidsMBA UK directly on 0203 488 0091.
You can view our booking terms and conditions by clicking here.

KidZania's 2018 Business & Careers Festival was AWESOME!
Taking a look back at our Business & Careers Festival participation on rainy Sunday in London 🙂 – A big THANK YOU to KisZania for having us ! Lots of fun activities and inspiring  workshops on "Finance your business' – teaching kids how to set up and raise money to start their business!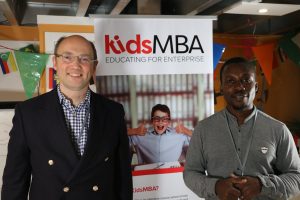 KidsMBA Dubai is Back !!!
This weekend KidsMBA Dubai organised another successful KidsMBA event in Dubai. Truly amazing the winner of the KidsMBA Star Performer Trophy was 10 year old Sultan Alolama. Well done!!  Many congratulations from all of us at KidsMBA HQ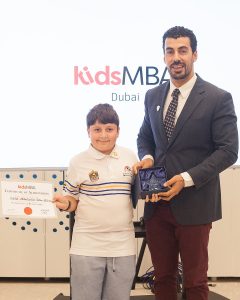 KidsMBA International Competition 2018
The first KidsMBA International Competition was held on Saturday 6th October 2018 at the offices of Secure Trading in Canary Wharf. Bringing together 10-16 year olds who had travelled from as far as Colombia and Ecuador to present their business idea to a Dragon's Den of real life CEOs and compete for the KidsMBA International Champion's Trophy and $750 seed money for their business.
KidsMBA is the brain child of Professor Mark Watson-Gandy. Despairing at the high rate of failure of new businesses, he set out on a mission to teach kids core business skills and know-how needed for business and self-employment. Since its launch in 2016, the KidsMBA course is presently taught in 18 countries.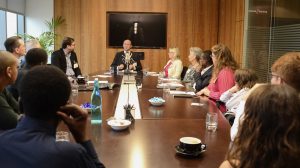 Prof Watson-Gandy said "It is hard not to be moved and inspired by the passion and drive of these young people.  It was clear that a great deal of hard work, research and effort had gone into the preparing plans and the judges and I were deeply impressed by the quality and professionalism of the pitches"
The judges were:
* Daniel Holden, CEO, Secure Trading
* Sam Ghann, CEO, Greater London Mutual
* Ann Grant, Chair Serious Trust
* Sarah Leijten, Head of Horizons Bradfield College
* Maria Pombo, Director Berescued
* Mark Woodcock, CEO Vocademia
The kids pitching at the event were finalists drawn from a large KidsMBA alumni pool from around the world.
The kids that pitched their business plans were:
Sean Wales, London
Mayowa Osonowo, Kent
Farrell Addo, London
Daniel Honciuc, Ecuador
Isabella Ramirez and Andres Diaz del Castillo, Colombia
Emilia Machado, Colombia
Juan Jose Medellin, Colombia
Laura Ganeeva, Dubai
The youngest person to pitch was Daniel Honciuc, who is just 10 years old. He had won the KidsMBA Star Performer Trophy in Ecuador earlier this year. He also appeared on stage at The Business Factory event in Mexico in 2018, pitching his business to over 200 business leaders.
The winner was the team of Isabella Ramírez and Andrés Díaz del Castillo of Colombia with their project, CRIS – Recycling Centre for Social Integration.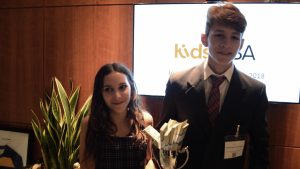 In a surprise move, the judges decided to create a new "Highly Commended" award for the business of Mayowa Osonowo from Kent and agreed to match the KidsMBA prize money for the winner with $750 for his venture from their own money.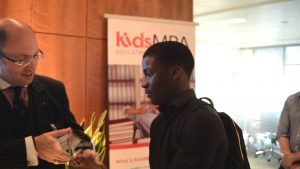 Daniel Holden, CEO of Secure Trading – the host of the Competition, said "Children and young people's education is at the heart of a thriving and innovative society, which then builds the business ideas and leaders of the future. We are very proud to support KidsMBA in this, and give some insight into our dynamic payments environment which supports global business growth. The entries were truly inspiring – Well done to the amazing winners!"
KidsMBA – How to build a Successful Business: Essential Skills and Know-How for Future Billionaires. Finally available on amazon! 
Whether you dream of building an on-line business, running an international corporation or becoming a fashion designer, pop star or footballer, there are key business skills that you cannot do without if you are to succeed financially. Motivational, empowering and packed with real-life insights and know-how, this book will introduce you to some of the essential skills and mindset you will need to turn your talents into a business plan and to start, manage and grow your own business. Engaging and easy to understand, this book is written by award-winning company lawyer and serial company chairman, Professor Mark Watson-Gandy, founder of Kids MBA Ltd, whose innovative 2-day introduction to business skills course is now delivered internationally.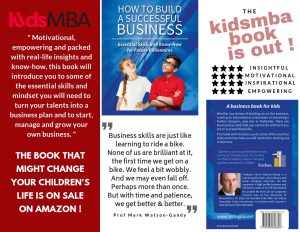 This book provides an introduction to business skills, and if you want to learn more and brainstorm with likeminded kids, why not sign up for the two day KidsMBA Programme in your country? If you are interested, you can also find out more at: kidsmba.net
You can now buy our book safely from amazon uk .. we really hope you will find it exciting and very much looking forward to receiving your thoughts , feedback and if you can leave us a review , that would be fantastic!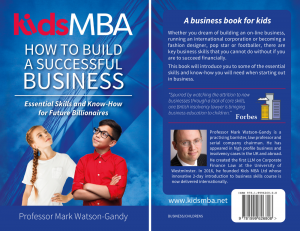 Business & Careers Festival – Thursday 11th – Saturday 13th October 2018!
Back by popular demand, on Thursday 11th – Saturday 13th October Kidzania London will be hosting a 3-day Business and Careers Festival! Inspiring the business leaders of the future, activities across the three days will encourage children in Key Stages 1-3 to develop their enterprise skills as well as their financial literacy through our 'Learning by Doing' philosophy!
In addition, KidsMBA will be introducing kids to key business skills to fuel their entrepreneurial flair. So often it is suggested that the school curriculum is lacking real-world life skills. KidsMBA will run workshops to fuel kid's know-how and aptitude for business. Perfect for all those aspiring KidPreneurs!
Looking forward to meeting you all !!!

UK based educational program for children
launches in the UAE
06 July 2018
Dubai Future Foundation hosts KidsMBA program at its innovative ecosystem "Area 2071"
Dubai Future Foundation (DFF) hosted the KidsMBA program for young individuals betwee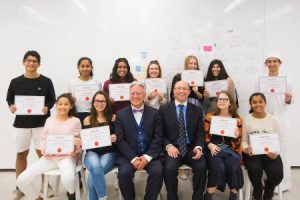 n the ages of 12 to16 to teach them more about self-employment and the basic needed skills to manage and engage a business in the market. In its first batch, 15 young entrepreneurs were enrolled in a program that aims to introduce children to many fields such as marketing, sales and research methods, account management, accounting principles, business plans, finance management, corporate leadership and corporate responsibility.
To foster entrepreneurship among young people and to empower start-ups
Abdulaziz Al Jaziri, Deputy CEO and Chief of Projects at Dubai Future Foundation
: KidsMBA programme supports the Foundations' efforts in empowering youth with the right tools and skillsets in becoming future ready and cultivating a mindset for entrepreneurship and for that we are honored to have hosted the program in Area 2071. Read more 
here
The 12-year old tycoons by kidsmba.net
18 April 2018
Another successful publication – Thank you so much Flybe.com
Read more about: Why everyone should make their kid a Twelve Year Old Tycoon
The KidsMBA course took 3 years to write with the input of a panel from a range of disciplines, from entrepreneurs to experts in law, education, banking, and accountancy. To learn more about our course , kindly head to our website: kidsmba.net
Five reasons why mums are in favour of KidsMBA, by Polly Player
1 February 2017
One thing that most modern schools have in common-even the highest achieving ones-is that teaching life skills and how to apply classroom-based learning in the real world are often glossed over, or not given any consideration at all in the constant drive to achieve tangible exam-based results.
As a result of this, many intelligent, talented and well-performing children enter the workplace or go off to university somewhat hobbled when it comes to real-world skills and business savvy, putting them at a disadvantage from the get-go. The solution to this lies in carefully targeted education to teach kids to translate their school-based learning, ideas and skills into things that can help them to find work, or set up a business of their own; carefully targeted education like the recently launched KidsMBA.
I set out to find out more about KidsMBA, and why mums across the country are talking about it. Read on to hear more about what I learnt.
What is KidsMBA?
Put simply, KidsMBA is a course aimed at kids aged 12-15. Designed to complement and enhance pre-school leavers' education with a real-world taster of the life skills, know-how and aptitude required to run a business or become an entrepreneur, KidsMBA opens up the concept of self-employment and business management to young people from all walks of life. This gives kids a head start when it comes to finding their feet in the "real" working world outside of their school-a world that all teachers know, is becoming ever-more competitive year-on-year, which is why mums and dads of teenaged children are so positive about the KidsMBA course.
I wanted to find out more so I polled some parents and teachers to find out why this is, and here are the top five reasons given by mums and dads for why they are in favour of the KidsMBA course being brought into more schools.
1. More and more job opportunities today are self-employed
Self-employment in the UK is at its highest rate for over 40 years, while the marketplace for employed roles is more competitive today than it has ever been, with hundreds of applicants competing for many entry-level vacancies. KidsMBA helps to provide young people with not only the essential life skills to become self-employed or start a business, but mums and schools also tell us that KidsMBA helps to introduce these options to kids in the first place, providing them with additional opportunities and a better chance of success when they leave school.
2. Introducing the concept of business early on means no missed opportunities
KidsMBA gets kids comfortable with the concept of harnessing their skills and ideas to make a living or become an entrepreneur is something that is largely overlooked in many schools' education curriculums. KidsMBA brings this concept home to young people, encouraging them to use the skills and knowledge learnt during the course to explore options that they might otherwise have passed on by!
3. Kids learn real-world skills
KidsMBA introduces young people to important life skills such as budgeting, business writing and accounting. All of this helps kids to combine skills learned in the classroom education with real-world applications, enhancing both their abilities in core areas and their appreciation of why the topics that they learn in school will be important later on in life. This can help to improve lesson interaction, and even boost grades, as feedback from both teachers and parents has confirmed!
4. Kids MBA can enhance kids' profiles for universities
All teachers know that for kids that wish to go off to university before entering the workplace, having a strong portfolio of extracurricular activities and skills is just as important as academic achievements when it comes to competing for the best places. Kids MBA can help to enhance and strengthen young people's university CV, and give them an edge when it comes to their college admissions.
5. Kids MBA boosts confidence
Finally, KidsMBA gives young people who might be well suited to starting their own business or life as an entrepreneur the confidence to consider alternative options to beginning their working life making money for someone else, which can really boost young people's confidence. Kids MBA mums often tell us about the marked increase in their kids' confidence and prospects, which remain valuable long after they have completed the course and left school-based education!
Bexleyheath's future business-leaders first in the country to be taught vital business skills
14:39 26 July 2016 Luke May
St Columba's Catholic school was the first to sign up to the Kids MBA classes.
Youngsters at a secondary school in Bexleyheath are the first in the country to graduate from a business-inspired course.
St Columba's Catholic School for Boys was the first to sign up to the Kids MBA classes.
The classes are designed to educate on business skills needed to start a company or become self-employed.
Students aged between 12 and 15 years old took part in the 10-hour course.
First pupils graduate from the 'Kids MBA'
14 July 2016 bdaily.co.uk
Students at a school in Kent have become the first graduates of a project aiming to teach children vital business skills that will increase their life chances.
'We Need A MBA For Kids,' Says Advocate
15 October 2015 Rani Singh, Forbes Contributor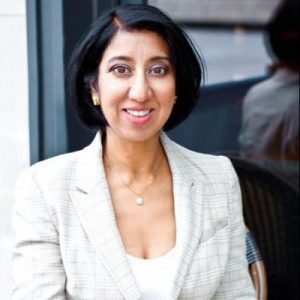 Spurred by watching the attrition to new businesses through a lack of core skills, one British insolvency lawyer is bringing business education to schools through an MBA designed for children.